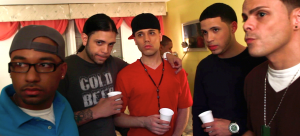 THE SOUTHSIDE stars multiple Emmy® Award-winning actor, X-Games Champion, and two-time Guinness World Record Holder Kristos Andrews in the lead role. The film also stars film actor Douglas Santiago, star of the blockbuster hit GIRLFIGHT, and Hip-Hop Artist Cuban Link. Familiar stars from DAYTIME, Bronson Picket and Ellen Dolan (AS THE WORLD TURNS), Fiona Hutchison and Kevin Mambo (GUIDING LIGHT & ONE LIFE TO LIVE) also appear in the film, as well as Emmy® Award-winning actor and TV icon, Nicolas Coster, best known for his roles on the hit shows THE BAY, FACTS OF LIFE and SANTA BARBARA.
Also appearing in THE SOUTHSIDE is the late film icon Miriam Colon of the classic films SCARFACE and ALL THE PRETTY HORSES. To see a complete cast list please visit us on the internet movie database (IMDb).
LANY Entertainment presents in association with NEW UNIVERSE PICTURES
a GREGORI J. MARTIN film "THE SOUTHSIDE" starring KRISTOS ANDREWS
DOUGLAS SANTIAGO, CUBAN LINK, ANTHONY AQUILINO
with NICOLAS COSTER and MIRIAM COLON
executive producer GREGORI J. MARTIN
produced by DERRELL WHITT and ANTHONY AQUILINO
written and directed by GREGORI J. MARTIN
……………………………………………………………………………..
To see a complete cast list, visit our filmography on the IMDb